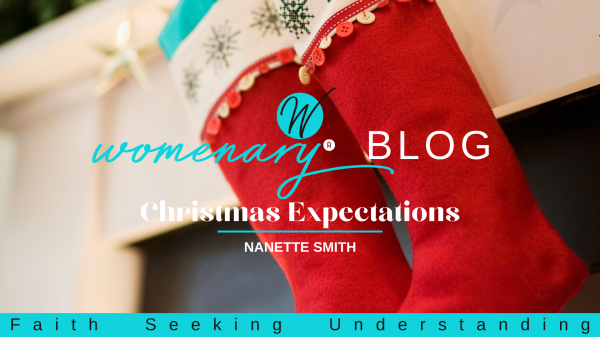 It was our first Christmas Eve as a married couple and I was attaching two stockings to the bannister of the little set of stairs lining the tiny living room of our rented house. My mother had filled Christmas stockings for us for as long as I could remember; and following that tradition, I had eagerly purchased stockings. I smiled as I stuffed my husband's with the fun and meaningful gifts I had carefully chosen, imagining what items I might find in mine in the morning.
Christmas morning dawned, and as we made our way downstairs I saw my stocking hanging limply. As I reached out to take it down, I was incredulous. It was empty. I had anticipated something completely different.
Expectation is "the strong belief that something will happen or be the case in the future."
My belief that my husband would fill my stocking with thoughtful gifts was an expectation based on my own experience; my husband's Christmas experience did not include stockings. Not only did he not fill mine, he did not expect me to fill his.
When we come together in marriage, we bring expectations that are as individual as we are. If I had discussed Christmas stockings with my husband prior to purchasing them, instead of assuming that he shared my view of their importance, I could have avoided being disappointed.
Experience, desire, promises may all lie at the origin of our expectations; but because they are based on human assumptions, we often set ourselves up for disappointment and conflict. However, expectations built on the truth of God's word will always be realized. God is faithful and true. His word can always be trusted.
For God alone, O my soul, wait in silence, for my hope is from him.
—Psalm 62:5, ESV
In 1744 Charles Wesley penned a hymn entitled "Come Thou Long Expected Jesus" in response to what he saw happening in 18th century England. Having considered Haggai 2:7, and observing the weakness of the church, the societal and economic disparity and the rampant suffering surrounding him, Charles wrote the song in response. In his hymn Charles calls for hope in the return of the Lord Jesus Christ, so that He can make things right. The entire hymn is an expectation built on the truth of Scripture.
Come, thou long expected Jesus,
born to set thy people free;
from our fears and sins release us,
let us find our rest in thee.
For to us a child is born, to us a son is given; and the government shall be upon his shoulder, and his name shall be called Wonderful Counselor, Mighty God, Everlasting Father, Prince of Peace. Of the increase of his government and of peace there will be no end, on the throne of David and over his kingdom, to establish it and to uphold it with justice and with righteousness from this time forth and forevermore. The zeal of the LORD of hosts will do this.
—Isaiah 9:6-7, ESV
Israel's strength and consolation,
hope of all the earth thou art;
dear desire of every nation,
joy of every longing heart.
"All the ends of the earth shall remember and turn to the Lord, and all the families of the nations shall worship before you."
—Psalm 22:27, ESV
Born thy people to deliver,
born a child and yet a King,
born to reign in us forever,
now thy gracious kingdom bring.
"Behold, the days are coming, declares the LORD, when I will raise up for David a righteous Branch, and he shall reign as king and deal wisely, and shall execute justice and righteousness in the land."
—Jeremiah 23:5, ESV
By thine own eternal Spirit
Rule in all our hearts alone;
by thine all sufficient merit,
raise us to thy glorious throne.
In him you also, when you heard the word of truth, the gospel of your salvation, and believed in him, were sealed with the promised Holy Spirit, who is the guarantee of our inheritance until we acquire possession of it, to the praise of his glory.
—Ephesians 1:13-14, ESV
Charles Wesley not only knew the Word of God; he knew God. God had proven to be faithful to His Word throughout his life. Charles knew any expectation he had, based on Scripture, would be realized, expectation born from knowing that God is faithful.
As we continue in this advent season we may find that our hearts and minds are filled with expectations for family gatherings, special services and activities, gift giving, and other traditional trappings. Some of us may glow with Christmas spirit at the thought of all those holiday prospects; some may be filled with anxiety and dread. And some of us may need to ask our Heavenly Father to give us the grace to accept whatever the reality of this Christmas season brings, trusting that He has a plan for our good and His Glory—even for our Christmas expectations.
---
Nanette Smith

A transplanted Texan, Nanette Smith spent most of her life in western Pennsylvania where she and her husband Tom raised their 6 children. When not homeschooling her children or helping her husband run his construction business, Nanette volunteered with Samaritan's purse, crisis pregnancy centers, and served as Women's Ministry Director. In 2013 God moved Nanette and her family to Texas and she attended her first Womenary class in 2016. Currently Nanette works as the Missions Coordinator at Mobberly Baptist Church in Longview, TX. When not working or playing with one of her 11 grandchildren, Nanette enjoys reading, writing, photography and baking.