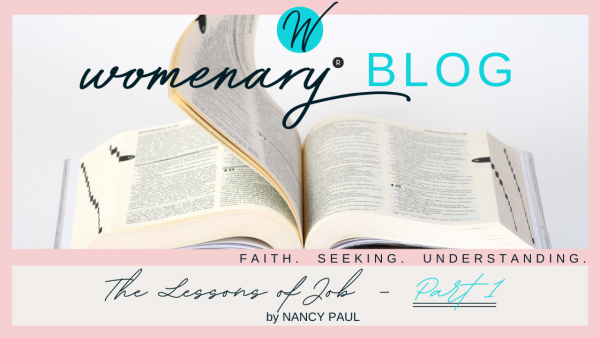 "Ah, Job," I thought as I contemplated the fall 2020 Womenary calendar—not exactly the most uplifting book. Now wasn't that just typical of 2020! Nevertheless there we were, jumping into the deep end. As the eight weeks finished I felt compelled to make sense of all that heady knowledge for myself. And so I re-entered the raw conversations of Job, peeling back layers of heartfelt depth. While the tension between divine justice and human suffering will persist, its personal anguish can certainly be diminished.
1. When Things Just Aren't Fair!
In the land of Uz there lived a man whose name was Job. This man was blameless and upright; he feared God and shunned evil (Job 1:1).
Suffering has existed forever. Suffering as just deserts is one thing; but what about When Bad Things Happen to Good People, as Rabbi Kushner entitled his grief query (Anchor Books, 1981) when his three-year-old son Aaron was diagnosed with progeria or rapid aging syndrome?
During suffering it quickly becomes clear that all our theology is rattled to the bone. The big questions were summed up by Epicurus, 3rd century BC, in his Trilemma:
"1. Is God willing to prevent evil, but not able? Then he is not omnipotent.
2. Is he able but not willing? Then he is malevolent.
3. Is he both willing and able? Then whence cometh evil?"
And some have added: "Is he neither able nor willing? Then why call him God?"
To couch the story of Job's deep despair in the unique poetry of Wisdom Literature makes his lament palpable. In the end, will he wallow in its depths or rise to the surface and take the hand God offers him out of the pit? Will you? Will I, the next time I cry: "But God, it's just not fair!"?
2. The Devil Can't Make Me Do It!
The LORD said to Satan, "Have you considered my servant Job? There is no one on earth like him."
"Does Job fear God for nothing?" Satan replied. "Have you not put a hedge around him?" (Job 1:8&9).
Job's character was exemplary: Job was honest inside and out, a man of his word, who was totally devoted to God and hated evil with a passion (1:1, MSG). There was "no one on earth like him" (1:8) in God's eyes. Now that's saying something.
Satan was well aware. After all, up to no good: "roaming through the earth and going back and forth in it" (1:7, 2:2), he continually looks for someone, anyone, to put to the test. But Satan had seen the great hedge of protection God put around Job and his family and everything he had (1:10), and that hedge was impenetrable. Whew, God's hedges around those who fear God (1:1) cannot be breached without permission.
Nevertheless, Satan persisted: "But reach out your hand and strike everything he has, and he will surely curse you to your face" (1:11). Herein lies Satan's reciprocity theology: Job worships you, God, because you have blessed him; if he loses those blessings, he will turn away from you.
In the end, Job did not sin by charging God with wrongdoing (1:22). He accepted not only good but trouble from God (2:10). And Satan left Job alone.
Two big questions come to mind; questions to which I don't really find an answer, except that God implicitly trusted Job's integrity:
- Why did God bring up Job to Satan in the first place?
- Why did God take down His hedge of protection?
A couple of lessons I did learn:
- The devil can't make me curse God and lie down and die. I make the choice whether to hang onto my integrity or not (2:9).
- God told Satan "you must spare his life" (2:6). So too, our eternal life is never Satan's for the taking once we believe.
3. Don't be a Foolish Woman/Don't Compromise Your Integrity
[Job's] wife said to him, "Are you still holding on to your integrity? Curse God and die!"He replied, "You are talking like a foolish woman. Shall we accept good from God, and not trouble?" (Job 2:9-10).
Job had passed Satan's tests without sinning (1:22; 2:10), but the suffering he continued to experience was surreal. Then too, Mrs. Job had lost as much as her husband, except for her health. At the sight of Job's sores, what comfort she might have given him melted: "Curse God and die!" Stop defending God, Job; God doesn't care.
I've been there too; haven't you—where are you God? what do you care? Job was a better person than I. He trusted God with the bad along with the good. Truth is, it is foolish for another, especially your wife, to suggest you curse God.
Lesson learned: even in the midst of great misery, keep your eyes on God and don't compromise your integrity.
4. With Friends Like This, Who Needs Enemies?
When Job's three friends…heard all about the troubles that had come upon him, they set out from their homes and met together by agreement to go and sympathize with him and comfort him (Job 2:11).
To their credit they came, they wept, they sat in silence for seven days and nights. But what started off well, quickly went downhill in their version of retribution theology: surely you did something wrong Job; you deserve to be punished. Rather, relief comes from words that encourage and comfort (16:5). Job's "miserable comforters are you all!" (16:2) becomes our warning.
In the end, God was "angry" with the three: "you have not spoken of me what is right, as my servant Job has" (42:7). Interestingly, He did not chide the fourth. Although young in years Elihu had figured out that why was not the right question—rather, how to get through the mess you are in. And for understanding you turn to He who would never do wrong (34:12): "It is the spirit in a man, the breath of the Almighty, that gives him understanding" (32:8). "For God always answers, one way or another, even when people don't recognize his presence" (33:12, MSG). The bigger question then becomes: who is this God?
It's not only Satan who perverts our right thinking. The friends we keep, the misguided theology we read or watch or listen to, the ways of the world do their best to keep us from solace in the splendor and majesty of the Almighty (37:22).
As I read Job intently this new year in conjunction with the Psalms, I find a parallel in the laments of Job and those of David except that David's psalms end on a positive note. It took Job the entire forty-two chapters to really see the Almighty (42:5).
*All Scripture quotes NIV unless otherwise noted.
---
Nancy Paul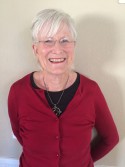 Nancy Paul is Canadian born and bred but happily settled in Texas. She is married, mother of two, and grandmother of three busy boys. A long time Womenary student, she loves to read, is a lover of God's word and a wannabe writer. Nancy is a regular contributor to encouraging.com, a collection of blog articles regularly published by the women of Green Acres Baptist Church of Tyler. As well, she is the women's Bible study coordinator at GABC.