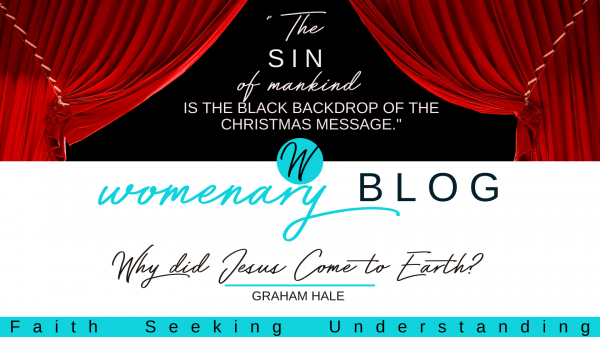 "I will put enmity between you and the woman, and between your offspring and her offspring; he shall bruise your head, and you shall bruise his heel" (Genesis 3:15, ESV).
Why did Jesus have to come? Do you ever think about that at this time of year? Why did He have to take on flesh and be born in a barn in Bethlehem? Genesis 3 tells us the reason—He came because of sin. He came because there was a fall. I once heard a pastor say, "The sin of mankind is the black backdrop of the Christmas message."
We cleverly quip at this time of year: "Jesus is the reason for the season." And He is, but why? Why did He have to come? Because of sin. So another correct theological statement about Christmas is: "Sin is also the reason for this season." While that does not look good on a Christmas card, the message of sin and salvation is an essential part of the Christmas message.
When an angel of the Lord appears to Joseph in a dream he says, "She (Mary) will bear a son, and you shall call his name Jesus, for he will save his people from their sins" (Matthew 1:21, ESV). Jesus' very name means salvation. Salvation is the reason Jesus came. We don't like to think about sin and the fall anytime, especially at Christmas. We prefer to think about Christmas trees and stockings hung on the mantle and Bing Crosby. But to truly understand the beautiful message of Christmas we need to recognize our sinfulness and our desperate need of a Savior.
We live in a world where lessons about man's sin and God's wrath and judgment are not popular, even in Christian circles. However, if we do not focus on man's sinfulness and our need for rescue, we will never grasp the glory of Christmas. We will fail to truly comprehend God's amazing grace.
What makes God's grace so amazing? What makes the gift of His Son so glorious? What makes the Christmas story so special? It is the realization that, without Christ, we are sinners who stand condemned.
I want to encourage you this Christmas season to spend time thinking about your sinfulness and need for rescue. Also, meditate on God's response in sending His Son. Then enshroud your sinfulness in God's great mercy and grace.
I pray those truths lead you to be more thankful and worshipful this year than ever before. That realization will then make these wonderful words from Isaac Watts all the more meaningful when you sing them:
No more let sins and sorrows grow,
Nor thorns infest the ground;
He comes to make His blessings flow
Far as the curse is found,
Far as the curse is found,
Far as, far as, the curse is found.
—"Joy to the World", 1719
---
Graham Hale

Graham Hale is the Pastor of Fellowship Bible Church in Jacksonville, TX. and is a Womenary Professor. He earned a B.A. (Political Science) from the University of Arkansas in 2001 and a M.Div. (Missiology) from Mid-America Baptist Theological Seminary in 2006. Graham is currently pursuing a D.Min. (Pastoral Leadership) at Southwestern Theological Seminary.